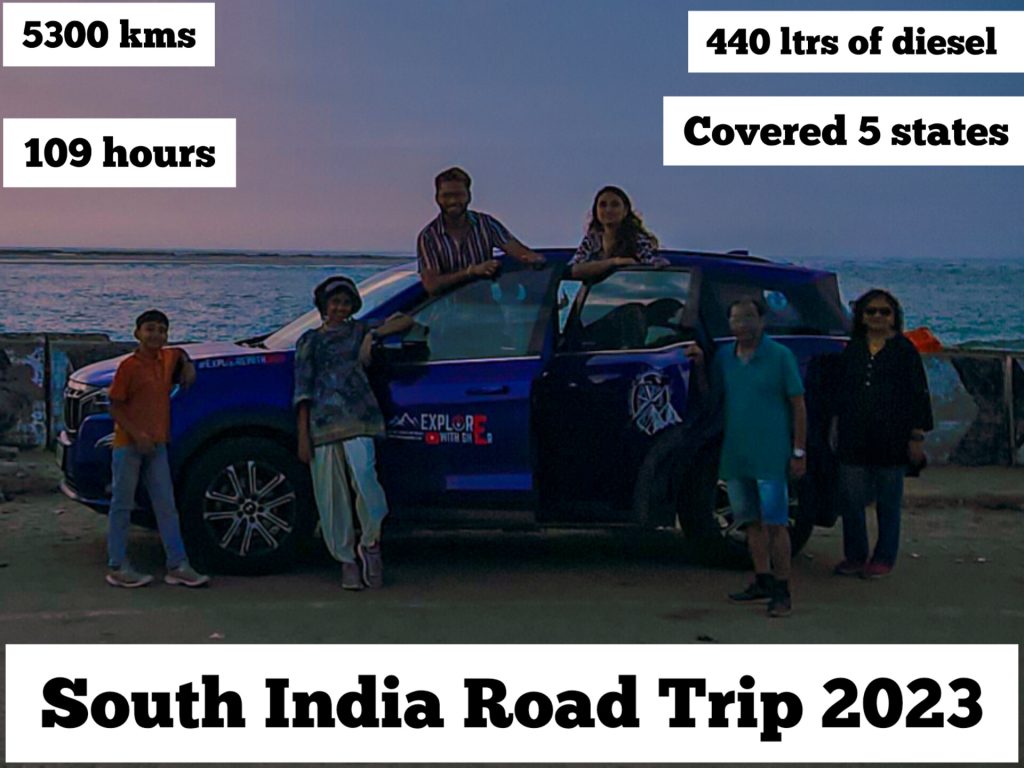 Hello Everyone,
We just completed our 5300 kms road trip covering South India in our XUV 700 and we will soon post the episodes on our YouTube channel.
Link to our channel: https://www.youtube.com/@ExploreWithSher
Route Map:
https://youtube.com/shorts/MHyeZGOw_Q0?feature=share
Here's something you can look forward to:
A series of episodes on YouTube covering our South India Road Trip 2023.
We started our road trip on 28th April 2023 and came back on 13th May 2023. This makes it 16 days and 15 nights.
Here are the states we passed through:
Maharashtra -> Karnataka -> Tamil Nadu -> Kerala -> Andhra Pradesh -> Telangana.
Currently we are editing and working on our raw videos and as and when we are done, we will post them one by one i.e. episode by episode. The whole series will be published on YouTube as 4K videos. If you have a smart TV, I suggest you to watch and enjoy the whole series on it.
Hope you enjoy the series as much as we enjoyed living through it.
Click the following link to view the entire series, episode wise:
https://www.youtube.com/playlist?list=PLZke2W8Z8gI_1n4NtY3taEq4xO4Gah6Cv
Please subscribe to this channel and also press the bell icon to get notified about every episode that we start posting on our channel😊
We will try to cover every possible place that we visited and all the activities that we enjoyed.
Here's our travel spec:
Total Distance: 5300 kms
Total number of driving hours: 109 hrs.
Fuel (Diesel) consumed: 440.4 ltrs (Rs. 41744.44)
Toll charges: Rs. 4337
Highest number of kms driven in a day: 1000 kms on the last day from Andhra Pradesh to Mumbai – a non stop 17 hrs drive.
Apps used: AirBnB and Booking.com
Vehicle used: XUV 700
Here's our day wise travel itinerary:
Day 1
Maharashtra
Mumbai
Karnataka
Stayed in Gokarna
Enjoyed Sunset and Dinner in Gokarna Main Beach Shack (2 hours)
Day 2
Karnataka
Checked out from Gokarna
Did darshan in Shri Mahableshwara Swami Temple (35 minutes)
Murdeshwar
Did Darshan in Shri Murudeshwara Shivana Temple (1 hour)
Kullur
Did Darshan in Sree Mookambika Temple (2 hours)
Stayed in Udupi
Did darshan in Shri Krishna Temple/Sri Krishna Math (30 minutes)
Spend some time at Malpe Beach (45 minutes)
Day 3
Karnataka
Checked out from Gokarna
Mangaluru
Saw New Mangalore Port on the way to Coorg
Stayed in Coorg
Day 4
Karnataka
Stayed in Coorg
Darshan at Thalacauvery (1½ hours)
Namdroling Monastery/Golden Temple (1½ hours)
Day 5
Karnataka
Checked out from Coorg
Mysuru
Enjoyed filter coffee at Cothas Coffee while waiting for Mysore Palace to open (1 hour)
Explored Mysore Palace…the iconic structure of the Wadiyar dynasty (1½ hours)
Nanjangud
Did darshan in Nanjangud Shri Srikanteshwara Swami Temple (30 minutes)
Explored Lord Shiva Statue (15 minutes)
Passed through Bandipur National Park (45 minutes)
Tamil Nadu
Passed through Mudumalai Tiger Reserve (45 minutes)
Crossed 39+27 Hairpin Bends (1 hour)
Stayed in Kotagiri, which is 1½ hours further from Ooty to avoid Ooty crowd
Day 6
Tamil Nadu
Stayed in Kotagiri
Kodanad View Point (1 hour)
Coonoor
Explored the Tea factory, Oil making factory and Chocolate making factory at High Field Estate (45 minutes)
Passed through 9th Mile/Wenlock Down while going to High Field Estate (10 minutes)
Day 7
Tamil Nadu
Checked out from Kotagiri
Crossing 7 Hairpin Bends (30 minutes)
Stayed in Coimbatore
Visited Adiyogi Statue (30 minutes)
Explored Isha Yoga Centre (45 minutes)
Experienced the Light Show at the Adiyogi Statue (15 minutes)
Day 8
Tamil Nadu
Checked out from Coimbatore
Madurai
Did darshan in Arulmigu Meenakshi Sundaraswara Temple (Shakti Peeth) (1½-2 hour)
Kerala
Stayed in Thiruvananthapuram (formerly known as Trivandrum)
Day 9
Kerala
Stayed in Thiruvananthapuram
Did darshan in Sree Padmanabhaswamy Temple, the richest temple in the world (3 hours)
Had lunch (Dominos pizza) at Lulu Mall on the way to Jatayu's Earth Centre
Chadayamangalam
Explored the world's largest Jatayu's sculpture at Jatayu Earth's Centre (4 hours)
Travelled through Cable Car/Udaan Katola to view the largest sculpture closely
Did darshan in ISKON Jatayu Hare Rama Temple
Saw the Footprint of Lord Rama which were imprinted on the rock while giving moksha to Jatayu
Day 10
Kerala
Stayed in Thiruvananthapuram
Tamil Nadu
Went to the Land's End that is Kanyakumari (half day)
Vivekananda Rock Memorial
Took Boat Ride to go to the rock where Swami Vivekananda meditated
Saw the Foot print of the Goddess at Shripada Parai
Saw Tiruvalluvar Statue from the Vivekananda Rock Memorial
Saw the confluence of three water bodies – Indian Ocean, Arabian Sea & Bay Of Bengal at Triveni Sangam
Kerala
Kovalam (1 hour)
Did Darshan in Azhimala Shiva Temple (1 hour)
Explored the Gangadhareshwara Shiva Statue
Enjoyed the kite flying and the cool breeze in Kovalam Beach
Day 11
Kerala
Checked out from Thiruvananthapuram
Tamil Nadu
While going towards Rameswaram got a glimpse of 100-year-old railway bridge Pamban Bridge
Travelled to Rameswaram by car on the Anna Indira Gandhi Road Bridge, which is parallel to Pamban Bridge
Stayed in Rameshwaram
Did darshan in Arulmigu Ramanathaswamy Temple, which is a jyotirlinga as well as Char Dham (45 minutes)
Day 12
Tamil Nadu
Checkout from Rameshwaram
Went to Dhanushkodi, the ghost town (2 hours)
Got a glimpse of Ram Setu
Saw the confluence of two water bodies – Bay of Bengal & Indian Ocean at Arichal Munai (30 minutes)
XUV 700 had to rescue Hyundai i10, which was stuck between stone and sand (30 minutes)
While on the way to Vellore
Did darshan in Panchmukhi Hanuman Temple, the only temple which has the Floating Stone (15 minutes)
Stayed in Vellore
Did darshan in Sri Lakshmi Narayani Golden Temple (1 hour)
Day 13
Tamil Nadu
Checkout from Vellore
Andhra Pradesh
Stayed in Tirupati
Did darshan and enjoyed the peaceful tranquillity in ISKON Temple (45 minutes)
Day 14
Andhra Pradesh
Stayed in Tirupati
Went to Tirumala Hills
Did darshan in Sri Venkateshwara Temple/Tirupati Balaji, the richest temple of India (12 hours)
Day 15
Andhra Pradesh
Checked out from Tirupati
Passed through the Nagarjunasagar Srisailam Tiger Reserve (1 hour)
Stayed in Srisailam
Did darshan in Sri Bhramaramba Mallikarjuna Swamy Ammavarula Devasthanam
Darshan of Mallikarjuna Jyotirlinga, a Jyotirlinga
Darshan of Goddess Bhramaramba Devi, one of the 18 most powerful Shakti Peeth (45 minutes)
Day 16
Andhra Pradesh
Checkout from Srisailam
Did darshan in Sakshi Ganapati Temple on the way to Hyderabad (30 minutes)
Telangana
Passed through Amrabad Tiger Reserve (1½ hours)
On the go visited Hyderabad
Passed through Airport Road (30 minutes)
Had Brunch in Aerospace Plaza (45 minutes)
Passed through Nehru Outer Ring Road (4 lanes) on the way to Mumbai (1 hour)
Maharashtra
Passed through Pune (2 hours, that also due to heavy traffic)
Reached Mumbai after driving non-stop for 17 hrs from Andhra Pradesh – 1000 kms in a day (highest kms per day in this trip)
Achievements
Crossed around 120 Hairpin Bends on the ghats
Managed rescuing a Hyundai i10 stuck in sand using a towing clamp
Visited 5 states in a single trip
☆ Karnataka
☆ Kerala
☆ Tamil Nadu
☆ Andhra Pradesh
☆ Telangana
Travelled 5000+ kms in a single trip of 16 days
Managed to book hotels or home stay on the fly…no pre booking done
Covered 2 more Jyotirlingas, 1 Chardham and 1 Shakti Peeth
Did Tirupati Balaji's Darshan barefoot – 12 hrs on foot
Covered 1000 kms in one single day – solo drive for 17 hrs – non-stop
Ooty Ghats using Automatic Gear – a new experience
Learnings
☆ Never leave footwear outside temples instead leave in car or hotel rooms or homestay
☆ Always ask locals for details and routes before following Google Maps
☆ Always try to order the food speciality local to that place
☆ Stay hydrated always